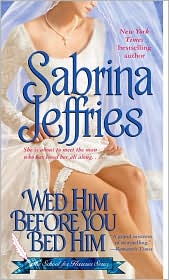 At eighteen, Charlotte Page made a life-altering mistake. She wronged a man in an impulsive act that she came to deeply regret, though it led her to her present life as Mrs. Charlotte Harris, owner of Mrs. Harris's School for Young Ladies. Unbeknownst to her, that man is now her anonymous benefactor, the mysterious "Cousin Michael." His masquerade began as preparation for a devastating revenge, but became a labor of love. Now Charlotte desperately needs his help. Can he save her from disaster as his real self without revealing the ugly secret behind his charade? Or will the mistakes of both their pasts tear them apart forever?
I'm currently half way reading this novel and I keep thinking David, David, David, you ass, TELL HER!
It's not a mystery who the anonymous benefactor is – Mrs. Jeffries reveals it within the first couple of pages and confirms it in the 2nd chapter. I find David really well liked but I can't help it scream at his "making it more complex than what it actually is" situation. He's got his faults and then he's digging even a bigger hole than he started out with. Charlotte Harris is everything she's been described as – strong will, beautiful, and desirable. It is a good match but I can't help to wanting to nudge these two together already. And I can see the many many obstacles that lay ahead of them.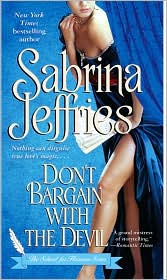 The future of Charlotte Harris's fi nishing school is in jeopardy when a charming Spaniard — world-famous magician Diego Montalvo — arrives to turn the bordering estate into a scandalous pleasure garden. Valiantly ignoring his wicked flirtations, outspoken Lucinda Seton vows to derail his plans and save the school, unaware that Diego's true mission is to spirit the long-lost heiress away to Spain for a handsome reward! But before long Diego's heart is playing tricks on him, and Lucy is falling under the illusionist's spell. How can the Master of Mystery go through with his devilish scheme when all he wants is to make the lovely heiress his own?
I devoured Don't Bargain With the Devil – the 5th book in the School of Heiresses series, which sets up the stage for Wed Him Before You Bed Him. Deigo is HOT and delicious and Lucy just as described, a hoyden. It was a very entertaining read. The mystery of Lucy's birth was convoluted but eventually straightened out. It kept the story going. I always enjoy a Sabrina Jeffries book. I haven't really found a bad one yet. The really funny thing about DBWD was how hard Diego wanted his land back but in the end, he found out that the comforts he was sooo used to was nowhere to be found on his land. It's like me wanting a Starbucks coffee but the closest one is like 20 minutes away.